Uses
Sufficient levels of L-Citrulline are required to detoxify the liver from ammonia. Ammonia is a waste product of the body from oxidation. For people who monitor their health and wellness, they understand that too much toxins in the body is not healthy for the long term. The right amount L-Citrulline and vitamin levels promote increased energy and maintains the immune system. L-Citrulline helps the body recovery from fatigues and stress. L-Citrulline also maintains the acid base balance in the body.
Finished Product – Citruaid™

Description
Citruaid™ comes in two packages: 50 Grams and 250 Grams Bottle.

Appearance
White to off-white uniform powder or granule.
Flavor
Orange or Lemon-lime
Assay
• 250 mg of L-Citrulline in 1 gram Citruaid™
• 12.5 grams of L-Citrulline in 50 grams Citruaid™ bottle
• 62.5 grams of L-Citrulline in 250 grams Citruaid™ bottle
Solubility
Soluble in water. Freely soluble or a little turbid, no foreign substance.
Stability
Stable in temperature and humidity.

Recommended Daily Dose
As dietary supplement, take 1 to 2 scoops (1 gram per scoop) daily. (0.211 Teaspoon)
Physiological Function
• Replenish endurance and muscle recovery
• Boost vascular blood flow
• Advance cell and liver detoxification
• Elevate nitric oxide production
• Quick dissolving fast acting formulation
Formulating Techniques
Citruaid™ is granulated with necessary ingredients to produce not only stable product but also pleasant taste formulation. The formulation was produced using a unique processing method to also eliminates any risk of Transmissible Spongiform Encephalopathy (TSE) contamination.
Other Ingredients
Orange flavored Citruaid™: Mannitol, Xylitol, Rebaudioside-A 97%, Orange Flavor, Sodium Starch Glycolate, Sodium Chloride
Lemon-lime flavored Citruaid™: Mannitol, Xylitol, Rebaudioside-A 97%, Lemon Lime Flavor, Sodium Starch Glycolate, Sodium Chloride
Allergenic Ingredients
No preservatives, no wheat, no soy, no dairy, no yeast, and no lactose. Does not contain steroids and no caffeine.
Storage
Store in a cool dry place.
Packaging
High Density Polyethylene (HDPE) bottle with tamper resistance cap-ring and induction seal.
Active Ingredient – L-Citrulline
INCI Designation
2-Amino-5-(carbamoylamino)pentanoic acid
CAS No.
372-75-8
Physical and Chemical Properties
Molecular formula: C6H13N3O3
Molar Weight: 175.19 g mol-1
Chemical Structure: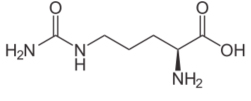 Absorption and Tissue Deposition
After oral intake, L-Citrulline is absorbed from the stomach and enters the blood system by way of the small intestine draining the digestive system that empties into the liver. Much of it bypasses uptake in brain, muscle, and other tissues for conversion to arginine.
Side Effects
Thus far, no significant L-Citrulline side effects or adverse reactions have been reported in the medical literatures.